JT Realmuto #10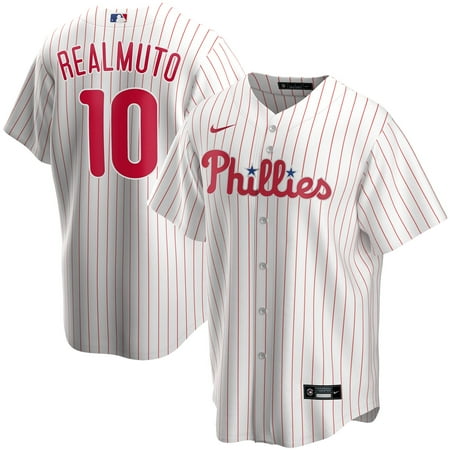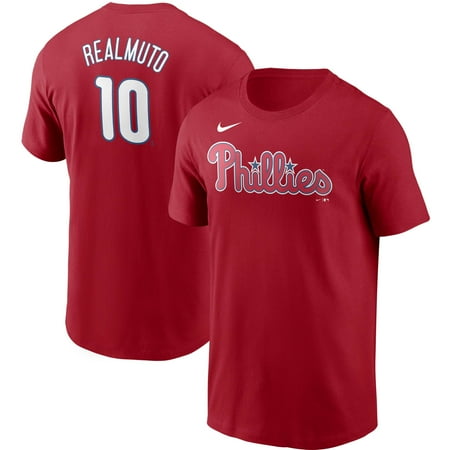 JT Realmuto is a 29 year old catcher for the Philadelphia Phillies out of Del City, Oklahoma. Realmuto grew up just outside of Oklahoma City, and prides himself for growing up as a multi-sport athlete. Aside from baseball, Realmuto played quarterback for the football team, power forward in basketball, and according to his college wrestling coach of an uncle, he was a "mean wrestler" in his youth. It is this gifted athletic ability and well-rounded nature that makes him different from most professional catchers in the Major Leagues.
JT Realmuto Jersey
At a position that prides itself on defensive prowess, Realmuto adds a separate element in his game. As of the 2018 season, Realmuto had gone four straight seasons being the fastest base-runner at the position, a sign that he could offer more to a team than superior catcher play.
Realmuto was drafted in the 3rd round of the 2010 MLB draft by the Miami Marlins. Unlike many of the young superstars in the MLB, Realmuto got off to a slow start in his career. This is largely due to him switching from being a primary infielder to a full-time catcher. Through May of 2016, scouts considered Realmuto to be nothing more than "Perfectly Adequate". It was then that Realmuto got hot for the Miami Marlins and never looked back. In that 2016 season, Realmuto would hit .303 and add 2.6 Wins Above Replacement.
JT Realmuto Autograph
In 2018, he earned his first selection to the all-star game while leading all major league catchers in runs, infield hits, and doubles, while finishing second in slugging percentage, RBI's and triples. All of this was on his way to winning the silver slugger. Naturally, this sudden success meant that the Marlins had to do what they always do and trade away their superstars.
The following off-season, Realmuto was traded to the Philadelphia Phillies. In acquiring the Catcher, GM Matt Klentak did not mince words: "We've acquired the best catcher in baseball".  Realmuto would go on to have a career year in Philadelphia where he became an elite overall hitter, and not just for a catcher.
Youth JT Realmuto Jersey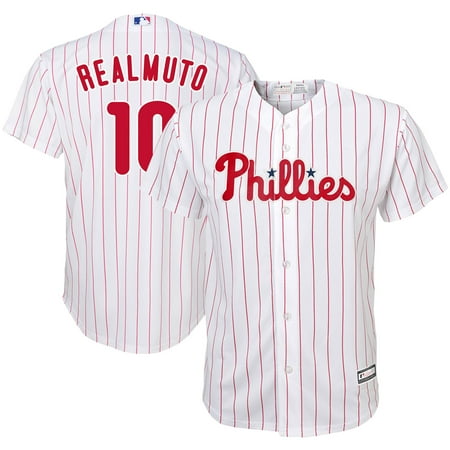 In addition, he led the league in throwing out base runners at an impressive clip of 47%. By winning the Silver Slugger and Golden Glove award in 2019, Realmuto cemented himself as the top catcher in baseball (backing up his general manager's words) and made the JT Realmuto Jersey a favorite of many Phillies fans.
JT Realmuto is a special player who has the ambition to be the best. When asked about the best part of being traded to Philadelphia, the catcher responded by talking about having three different staff members centered around making the catchers better (something he didn't have in Miami). Realmuto doesn't have an ego and is always willing to take advice on how to become better.
JT Realmuto Rookie Card
This fact is a main reason why people have seen such growth from Realmuto over his career. If it continues, there is a real possibility that Realmuto will improve on his 14th place finish in MVP voting in 2019 and further cement his legacy as a top catcher in the Major Leagues.
JT Realmuto Memorabilia
Free Shipping Available 
If its a JT Realmuto jersey or any other type of merchandise, you look for it in our Baseball Shop.  Or you can check out Walmart by clicking the logo below. They offer fast and free shipping on many baseball player jerseys and assorted merchandise.
We we have a Baseball Jerseys Page you should check out!  Find jerseys from your favorite teams.  See current players along with former greats.