Fernando Tatis Jr Jersey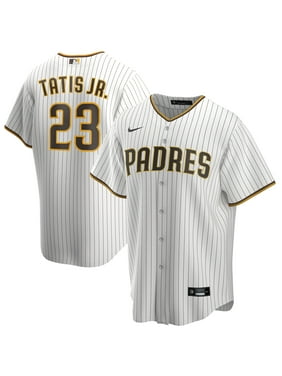 Fernando Tatis was an excellent baseball player for six teams in the MLB over 11 seasons in the late 1990's and early 2000's. If you would have told many players, scouts, and fans alike that his son would post a better batting average in his rookie season than the elder Tatis did at any point in his career, many wouldn't believe you. Not only did Fernando Tatis Jr. beat his old man's batting averages, his .317 average during the 2019 season was a whopping .019 points better than his father's best season.
Fernando Tatis Jr Jersey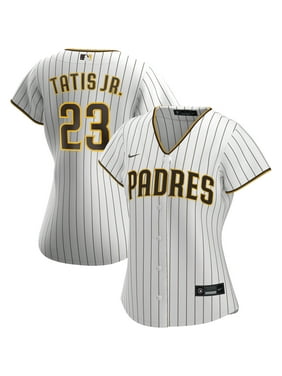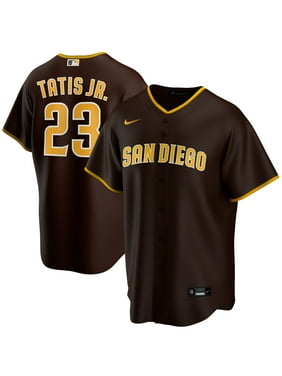 When asked about his son's success, former Major league Fernando Tatis Sr. said "The kid was born in the big leagues", referring to the younger Tatis being born which his father was in year 3 of an 11 year MLB career. Tatis Jr. remembers his dad taking him to the field and attributes his love for the game being found during those years in his childhood.
As a native of the Dominican Republic, Tatis Jr. was eligible to sign a free agent deal with an MLB club at the age of 16. Fernando was ranked as one the top 30 international free agents on many prospect lists.  He was signed by the Chicago White Sox in 2015 and received a $700,000 signing bonus.
Fernando Tatis Jr Autograph
As it turned out, Fernando Tatis Jr. would never play a game in the White Sox system.  The White Sox signed Tatis Jr. on July 2, 2015 and less than a year later they shipped him to San Diego in a June 4th trade that brought James Shields to Chicago.
Youth Fernando Tatis Jr Jersey
The Dominican Republic native developed into one of the top prospects in all of baseball.  Tatis Jr. appeared in all of the prospect lists including, the MLB Pipeline, ESPN, Baseball America and Baseball Prospectus. Essentially anyone who watched the kid saw something special in his abilities. After dominating through the San Diego Padres minor league system in 2017 and 2018 before making the big league opening day roster in 2019.
Fernando Tatis Jr Rookie Card
He played the duration of the 2019 season with the Padres, hitting .317 with 22 homers, 53 RBI's and 16 stolen bases in 84 games played. If not for injuries, it seems like an inevitability that Tatis would have received the award for Rookie of the Year, and would be in contention for the National League Batting Title, an unfathomable accomplishment for a  20 year old rookie who had only played professional baseball for 2 full seasons prior.
In August of 2019, Tatis was suffering through his 3rd significant injury in fourteen months, and many began to wonder if he could hold up through an entire MLB season. He is known for his aggressive style of play on the basepaths, which many attribute to his injuries, but when asked if he should dial it back, both Tatis and Padres Manager Andy Green said that's just how he plays and they do not want to hold him back.
Fernando Tatis Jr Memorabilia
Perhaps the best investment a Padres fan could make would be buying a Fernando Tatis Jr Jersey. When asked about his feelings about San Diego and the Padres organization, Tatis Jr. said "I fell in love with the city. I Love San Diego, I love the fans". He also iterated that he wants to stay with the organization for the long term. His dad agrees, saying that his son could be the shortstop of the Padres for "20 years".
Free Shipping Available
If its a Fernando Tatis Jr jersey or any other type of merchandise, you can look for it in our Baseball Shop.  Or you can check out Walmart by clicking the logo below. They offer fast and free shipping on many baseball player jerseys and assorted official merchandise.
We we have a Baseball Jerseys Page you should check out!  Find jerseys from your favorite teams.  See current players along with former greats.