Mr.  Padre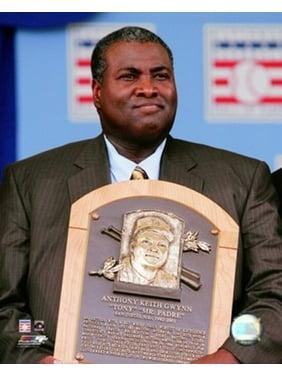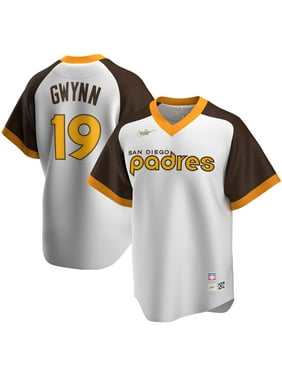 The list of great hitters across the history of Major League Baseball is long and is filled with a long list of worth names. A list that includes guys like Roger Hornsby, Ted Williams, Babe Ruth, Barry Bonds and Stan Musial to name a few. One name that may often get looked over due to his low total of career home runs in Tony Gwynn.
Despite hitting just 135 career home runs over the course of his 20 year MLB career, Gwynn could be considered one of the best hitters of the 1980's and 1990's. His loyalty to the San Diego Padres was felt as he played his entire career with the club and the Tony Gwynn jersey might be the most popular one of fans in the history of the team.
Key Note: On the same day Gwynn was drafted by the San Diego Padres, the San Diego Clippers in the 10th round the 1981 NBA draft.
Gwynn was born in Los Angeles, California and was raised in Long Beach after his parents elected to move to give their children a better education. While growing up, Gwynn loved to play basketball but was turned onto the game of baseball by his dad he made a baseball field in their backyard. During this time playing Gwynn developed his ability to put the ball in play while focusing on hitting it in the middle of the field due to the size restrictions in both left and right field.
Tony Gwynn Jersey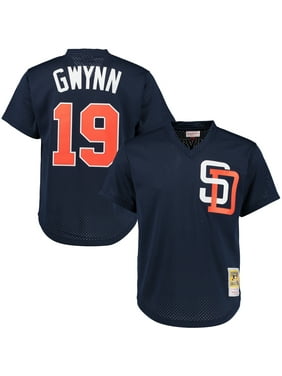 When Gwynn reached high school, he was a two sport star playing both basketball and baseball for Long Beach Polytechnic High School. While the basketball team dominated, the baseball team struggled to win games. As a senior, Gwynn hit .563 and was selected to the All-Southern Section first team.
After failing to land a baseball scholarship offer. After being granted the option to play two sports, Gwynn elected to attend San Diego State to play basketball for two years and eventually a chance to play baseball. In his two years with the Aztecs, Gwynn led the team in hitting and was an All-American in both seasons.
Tony Gwynn Autograph
With his success on the field, Gwynn was drafted by the San Diego Padres in the third round of the 1981 MLB draft. After signing with the Padres, Gwynn joined the Walla Walla Padres the teams class A minor league team. Over 42 games, Gwynn hit 12 home runs, stole 17 bases and posted a .331 batting average before finishing the season with a .462 batting average in 22 games in double A.
After an impressive spring training in 1982, Gwynn reported to the clubs triple A squad and hit .328 over 93 games before getting called up on July 19th, 1982 to make his MLB debut and also pick up his first hit of his career.
Tony Gwynn Memorabilia
In 1984, Gwynn would make his first full season with the club leading the league with 213 hits and a .351 batting average. Gwynn would go on to lead the league in hits seven times and batting average eight times. In 1994 during the strike shortened season, Gwynn posted a .394 batting average and lost out on a potential chance to chase a .400 batting average.
Throwback Tony Gwynn Jersey
During the 1999 MLB season, Gwynn would record hit number 3,000 of his career against the Montreal Expos. After announcing he would retire after the season on June 28th of 2001, Gwynn was announced as a non-playing member of the 2001 NL All-Star team. Both Gwynn and Cal Ripken Jr both earned the Historic Achievement Award by Bud Selig.
Key Note: Tony Gwynn and Cal Ripken Jr both retired after the 2001 season and were both elected to the Hall of Fame in 2007.
Tony Gwynn Rookie Card
After 20 seasons, Gwynn hung up his cleats following the 2001 NL season. Gwynn wrapped up his career with eight NL batting titles, five Gold Glove awards, 15 trips to the All-Star game, seven Silver Slugger awards and one Roberto Clemente Award. Along with those accomplishments, Gwynn finished his career with a .338 career batting average and 3,141 career hits.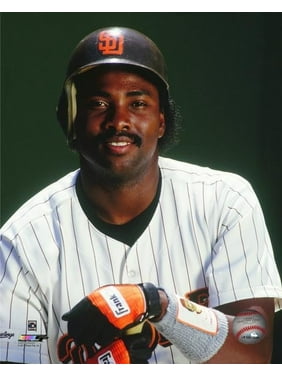 The long list of accomplishments not only helped land Gwynn in the MLB Hall of Fame but also helped the number 19 Tony Gwynn Jersey to be retired by the Padres.
If its a Tony Gwynn jersey or any other type of merchandise, you can look for it in our Baseball Shop.  Or you can check out Walmart by clicking the logo below. They offer fast and free shipping on many baseball player jerseys and assorted official merchandise.
We we have a Baseball Jerseys Page you should check out!  Find jerseys from your favorite teams.  See current players along with former greats.