Bo Bichette Jersey #11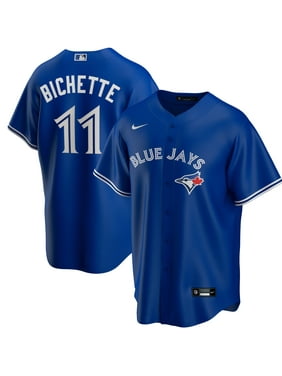 The Toronto Blue Jays have a wealth of young talent entering the major league ranks over the last few seasons. There seems to be a trend in the MLB and Toronto specifically where young superstars are the offspring of former professional ballplayers. In the case of Bo Bichette, he was born in 1998, the same year his father Dante led the league in hits as a member of the Colorado Rockies.
Bo Bichette Jersey
The trend for Toronto includes the sons of Hall of farmers Craig Biggio and Vladimir Guerrero. Although the Blue Jays organization says they didn't set out to draft the sons of superstars, there is a common thread amongst them in that they learned how to be a professional at a young age. For Bo, at the age of 15, his father (who had become hitting coach for the Colorado Rockies) brought Bo to spend his summer with the team.
Brushing shoulders with established big leaguers such as Troy Tulowitzki and Michael Cuddyer. It was here that Bo learned what dedication and work ethic was necessary to make it as a big leaguer.
Autographed Bo Bichette Jersey 
Bo Bichette was drafted in the second round in the 2016 MLB draft, something that baffled his former high school coach who admitted that other players were excellent young players, just not Bo. Just a month after being drafted, Bo Bichette was hearing rumors that he could already be earning a promotion. It was easy to see why since he was hitting .431 with 31 hits in only 18 games.
The amazing feat was that he continued his success in the minors even after rupturing his appendix, to which he ignored the pain and continued to hit at an astounding clip. This is simply who Bo is, a guy who would ignore life threatening pain to be able to continue to play the game he loves.
Youth Bo Bichette Shirt
Bichette was called up to the big leagues in late July of the 2019 season where he would single in his first big league at bat. In 46 games during his rookie season in 2019, Bo Bichette hit .311 with 11 home runs, 21 RBI's and 4 Stolen Bases. The reason for the excitement is that if the trend were to continue over a full 162 game pace, Bichette would hit 39 homers while hitting a very impressive average.
Bo Bichette Rookie Card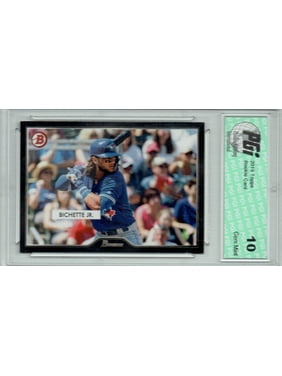 Obviously expectations should be tempered when playing a full season, especially after the book is out on the new hitter, but for Bo, there is no tempering expectations. "My goal is to be the best player that's ever been on Earth". He admits that this goal may not come to fruition, but as long as he works as hard as he can to achieve that goal, that will be enough for Bo.
Bo Bichette Memorabilia
With an MLB pedigree, natural ability that is unmatched by both, the desire to be great, and a support system around him to help achieve his goals, there seems to be little doubt that Bichette is bound for greatness as the shortstop of the future in the Blue Jays organization. Those who want a Bo Bichette jersey should pounce now, he might just be the "greatest player that's ever been on Earth".
Free Shipping Available
If its a Bo Bichette  jersey or any other type of merchandise, you can look for it in our Baseball Shop.  Or you can check out Walmart by clicking the logo below. They offer fast and free shipping on many baseball player jerseys and assorted official merchandise.
We we have a Baseball Jerseys Page you should check out!  Find jerseys from your favorite teams.  See current players along with former greats.